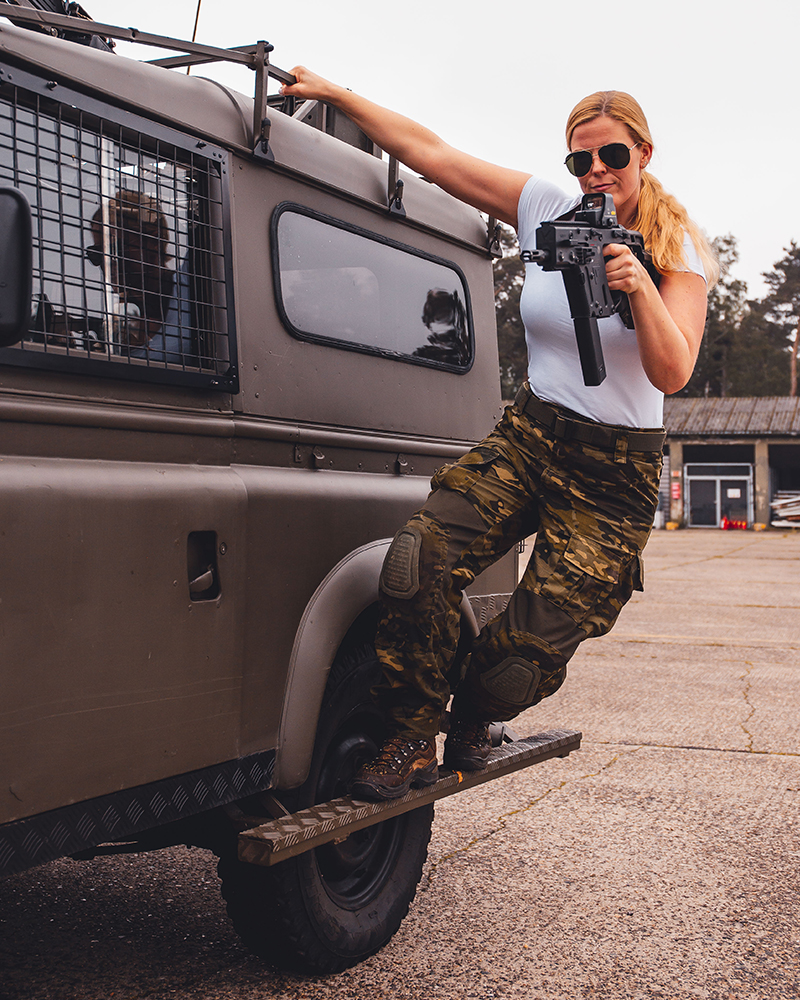 Single Player, Level 35
Self-employed Wildlife and Nature Photographer & Filmmaker, Animal Expert & Consultant, Conservationist & Speaker. Addicted to the Outdoor Life, Expeditions, Monitorings, Travelling & Camping. Respect and love Nature & all its Creatures. ❤️
Became Airsoft obsessed due to having fun with my mates, making friends worldwide, being active and sharpening my senses because of being outside all day and using tactical strategies to win the game.
Appreciate the Team Spirit, Solidarity and Support of our Airsoft community. This is why we are the #bestairsoftcommunity.
Feel free to use the hashtag in your posts and make sure to tag me with @gillette_airsoft, so I won't miss it! 😉
I love the variety of Team Death Matches (TDM) with a certain target like Capture the Flag, Search & Destroy, Rush, V.I.P. / President, Hostage Rescue and Treasure Hunt.
A nice game mode which could be played way more often is Kill Confirmed. Especially when you have already played several rounds and some dudes don't call the HITS anymore! Who does not know these guys, right?!
FFA (Free for All) is the Airsoft counterpart of PUBG or CoD's Warzone Battle Royale for Single Players which is great for quick games or with many players on the field. Game modes such as Zombies and Aliens are very nice for Events and Holiday Specials.
Tell me what you are going to play and I am all in! 😎
Some of you might have noticed my favourite camouflages so far. On my Instagram Feed and on Airsoft fields you will see me mainly in Multicam Tropic and Black/Wolf Grey.
Depending on the game modes and battlefields, I am a big fan of PenCott GreenZone, Tan and Urban Looks as well. But no matter what, I will adapt to each surrounding. When you can't see me, I am doing it right! 😜
Airsoft replicas I started to play with are Heckler and Koch's G36c by Umarex, KRISS Vector by Krytac plus the Back-ups Novritsch SSP-1 and Cyma CM.131.
#noadvertisement #keinewerbung 🙃
Though I already have additional Tactical gear and Airsoft guns on my wish list. Stay tuned! 🤙
Since when have you been playing Airsoft and how did you get started?
Since Summer 2020. My friends asked me to join and here I am – in love with Airsoft! ❤️
Where are you usually playing and which are your favourite Airsoft fields?
Because I love to travel I would like to get to know Airsoft sites around the globe. But my first gamedays were on the Airsoft fields of @airsoftoperations, @modern_vikings_e.v and @a_s_f_k_ in Germany and I can only recommend to play there! Awesome owners and lovely people! 🤜❤️🤛
How old are you, where are you from and what is your profession?
On September 17th I turned 35. I am a so-called Northern light, which means that I come from beautiful Northern Germany. I grew up between the North and Baltic Sea. What could have led to my actual profession – well, let's rather say professions! I am a self-employed Marine Biologist, Zoologist, Biological Consultant, Animal Care Attendant, Dive Instructor, Scientific Diver, Photographer, Filmmaker and Digital Creator.
What are your favourite hobbies beside Airsoft?
I am an Oceanaholic! I love all kind of water sports and activities like swimming, snorkeling and diving. I am addicted to Wildlife and Nature Photography. I love to travel, go camping and hiking, trying out new sports and video games, reading fantasy and scientific books and watching Hollywood Blockbusters and Netflix like almost everyone does.
Did you ever want to join the army or police?
My big brothers had to complete the general conscription and my dad was a civilian guard for decades. In addition I was influenced by plenty of war and action movies. Though I decided against the duty for the army or police because I was afraid that I wouldn't be able to accept and carry out orders without further ado. I am more of a rebel with a free mind and own opinion which doesn't mean that others follow blindly. I simply don't agree with everything and like to think twice about certain topics and put myself in someone else's shoes.
Why Gillette?
People keep asking me how I came up with this name. Well, first I needed a short, expressive and recognisable name.
Even when my Callsign and Gaming name has nothing to do with the American razor brand, I have recognised that my last name "Scheer" is Dutch for Shaving! 😆
I am a German girl though. Besides, there is a whole Gillette History of Normans conquered England in 1066 and the Gillette migration of first settlers in the USA and Canada in the 17th century. Gillette is a popular surname of mostly American people and places… and of the USS Gillette Navy ship from 1943-45. I also have family and friends in the US and have spent my cultural exchange there. So, I simply think it's pretty cool! 😎
YouTube
Check out my latest videos about Airsoft gear, loadouts, Outdoor and tactical equipment as well as Airsoft replica reviews and enjoy some epic gamedays.
Collaboration
Let's team up for some insane content - with me as an Airsofter and Model in front of the camera or as Photographer and Digital Creator behind the scenes. Become a Sponsor, Partner-Shop or Supporter of GILLETTE AIRSOFT.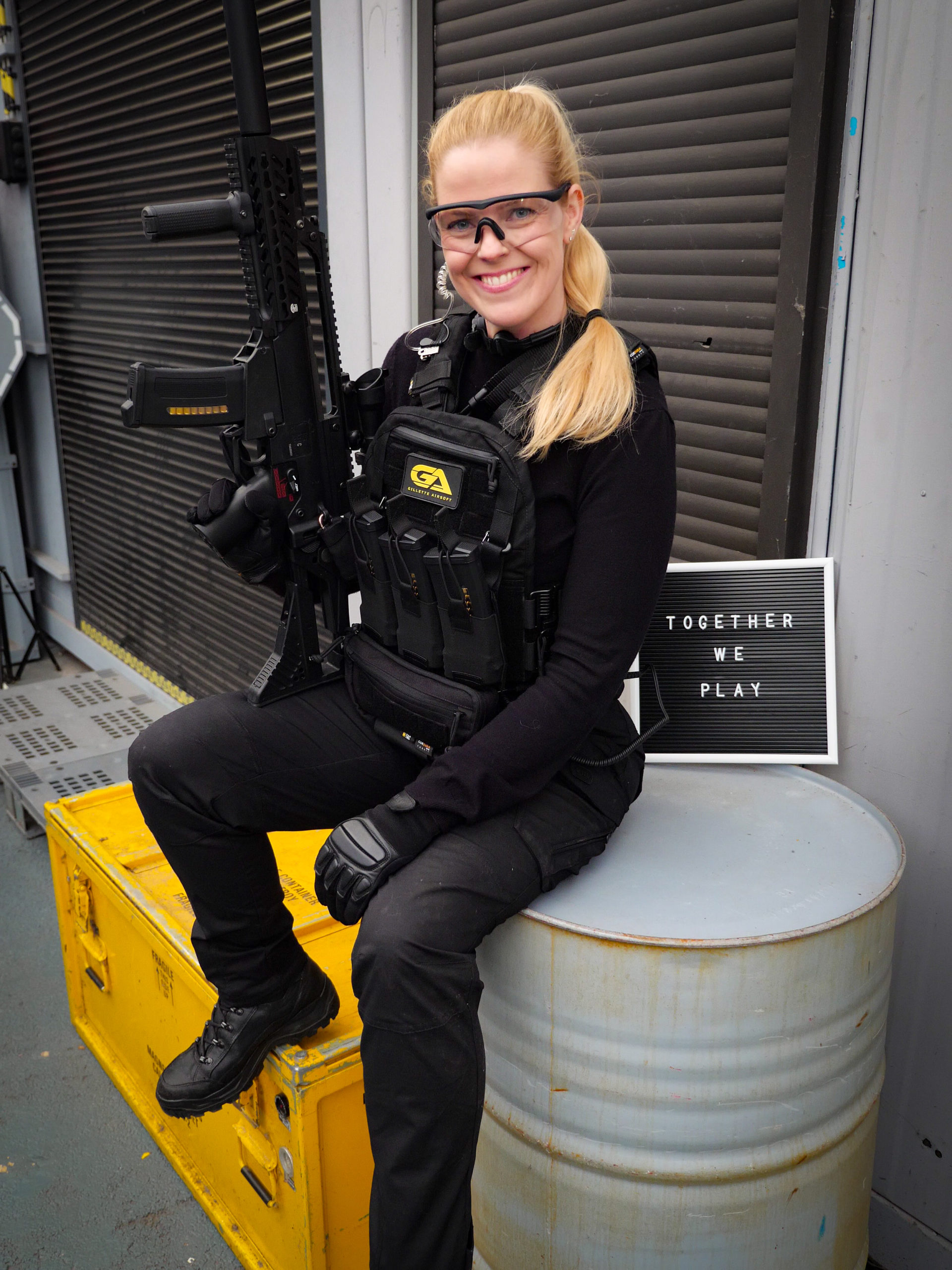 I collaborate with unique and authentical long-term Sponsors only, who identify with my work and support me pushing our incredible hobby Airsoft forward – within Germany, Europe and on a global basis.
Either with providing products and items and/or with paid advertisement.
Customer focus, Professionality and Quality is what we stand for. 🥇
Together we create extraordinary content about the best Airsoft gear, tactical equipment and replicas on the market. Our community can additionally save some money on the next orders, win awesome prices and will be always up to date what is brand new and available to purchase. 🤝
I only recommend products I own and use by myself and which I would buy over and over again. 👍
You like what you see and you simply love to support me for my upcoming Airsoft projects and events. I am thankful and feel very blessed and honored for every kind of help on my way, so of course I will credit your generosity even though it is not your main goal to receive any rewards.
No matter what, I will mention you anyway! ❤️
Thank you so much! 🙏
Check my Collabs
Check my Gallery